AUDITION "The Matchmaker"
June 20 @ 6:30 pm

-

9:00 pm

$20 – $22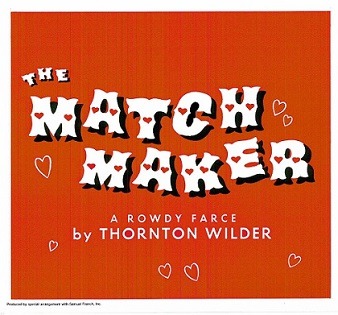 The Matchmaker
By Thornton Wilder
OPEN AUDITIONS! Monday June 19, 2023 6:30 PM
& Tuesday June 20, 2023 6:30 PM
Performance dates August 18-27, 2023
Fridays and Saturdays at 7:30 PM Sundays at 2:00 PM
The Broken Arrow Community Playhouse will be holding open auditions for Thornton Wilder's rowdy farce The Matchmaker on Monday and Tuesday June 19 and 20, 2023 at 6:30 PM at the playhouse 1800 S. Main St. Broken Arrow, OK 74012.
The BACP is excited to welcome Director Frank Gallagher. Frank has long been involved in theatre, starting in his early years at the University of Texas in Dallas, to the many years spent here in the Tulsa area. Frank served as an Assistant Professor and Technical Director for Oral Roberts University and several years on staff for both Heller and Clark Theatres in Tulsa. Locally he has designed and directed for Theatre Tulsa, Broken Arrow Schools, Theatre North and American Theatre Co. For The Matchmaker, Frank is looking to cast nine men and seven women of various ages. Auditions will consist of cold readings from the script. Actors should provide a brief resume of experience; pictures would be helpful (but not required.)
The Matchmaker is Wilder's uproarious farce about love and money. It stars the irrepressible busybody, Dolly Gallagher Levi, who inspired the Broadway musical, Hello, Dolly! Horace Vandergelder, a wealthy merchant in nineteenth-century Yonkers, NY, has a plan. He has been a widower for long enough and now he wants to find a wife. He recruits the help of local matchmaker, Mrs. Dolly Levi, but she has plans of her own. Meanwhile, Vandergelder's niece Ermengarde desperately wants to marry her artist lover, but Vandergelder refuses to allow it. Furthermore, his clerks have run off to New York City on a mission 'to kiss a girl'! There they find Irene Molloy and Minnie Fay, who are looking for excitement of their own. Hilarity and confusion ensues as everyone tries to secure their love lives and marry as they choose. Despite believing himself to be in charge, Vandergelder finds himself engaged to the astute Dolly Levi herself, who is determined to share his wealth for the greater good.
More information for this production can be obtained by calling the BACP at 918-258-0077. The BACP is located in The Main Place at 1800 S. Main in downtown Broken Arrow. The Matchmaker is presented by special arrangement with Concord Theatricals on behalf of Samuel French, Inc.www.concordtheatricals.com. This production is made possible in part by grants from the Oklahoma Arts Council and the National Endowment for the Arts. The Broken Arrow Community Playhouse is a member of the Oklahoma Community Theatre Association and the American Association of Community Theatre.
CHARACTER DESCRIPTIONS
MEN
Horace Vandergelder- a Merchant of Yonkers, just turned 60, vain, sly, and stingy
Cornelius Hackl- a Clerk in Vandergelder's Store, early thirties
Barnaby Tucker- a young Apprentice in Vandergelder's Store
Ambrose Kemper- an Artist, in love with Vandergelder's niece
Malachi Stack- hired by Vandergelder as a new Apprentice, despite his age
Joe Scanlon- a barber
Rudolph- a senior waiter
August- a younger waiter
A Cabman
WOMEN
Mrs. Dolly Gallagher Levi- a Friend of Vandergelder's Late Wife
Ermengarde- Mr. Vandergelder's young niece, whom Ambrose wants to marry
Irene Molloy- a Milliner
Minnie Fay- Mrs. Molloy's young Assistant
Miss Flora Van Husen- a Friend of Vandergelder's Late Wife
Gertrude- Vandergelder's elderly housekeeper
A Cook- at Miss Van Husen's