BACP Shorts-"Love 'Em or Leave 'Em
February 24 @ 7:30 pm

-

9:00 pm

$7 – $10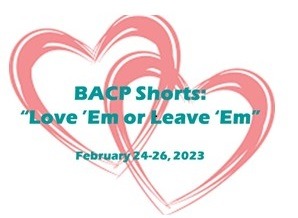 The Broken Arrow Community Playhouse is proud to present our special BACP Shorts "Love 'Em or Leave 'Em" event. Six short original plays by local playwrights, directed and performed by local artists! Performance dates are February 24 and 25 at 7:30 PM and February 26 at 2:00 PM. All tickets are General Admission at the door, no reservations. Ticket prices are $10 for Adults, $7 for Seniors age 60+, Children, Students and Military.
The six plays presented will be:
#1 Just Do It! Susan Apker playwright, directed by Miriam Mills. The cast includes; Christian Stubblefield, Renee Ruiz and Andy Axewell.
#2 The Last Supper, Kelley Childers Friedberg playwright, directed by Ryan Mash. The cast includes; Kristin Blue Fisher, Jeff Jimenez, Jan Kendall and Charmin Richardson.
#3 Shoulders, Michael Wright playwright, directed by Susan Apker. The cast includes; Ericka Del Carmen, Garrek Reed and Everett LeViness.
#4 No Funeral, Rick Allen Lippert playwright, directed by Samara Cain. The cast includes; Natasha Taylor, Curtis Woods and Jeff Jimenez.
#5 Pick Nick, Daniel Hitzman playwright, directed by Chester Beebe. The cast includes; Bonny Hardgrove, Paul Henry, Renee Ruiz and Everett LeViness.
# 6 If I Could Just Say Hello, Tim Hudson playwright, Jeremy Stevens composer, directed by Ron Friedberg. The cast includes; Tom Berenson, Curtis Woods, Jan Simpson, Charmin Richardson and Kristin Bremer.
We hope you will come join us celebrate the creativity and talents of our local artists! I call 918-258-0077, or visit the BACP website http://www.bacotheatre.com