AUDITION Neil Simon's PROPOSALS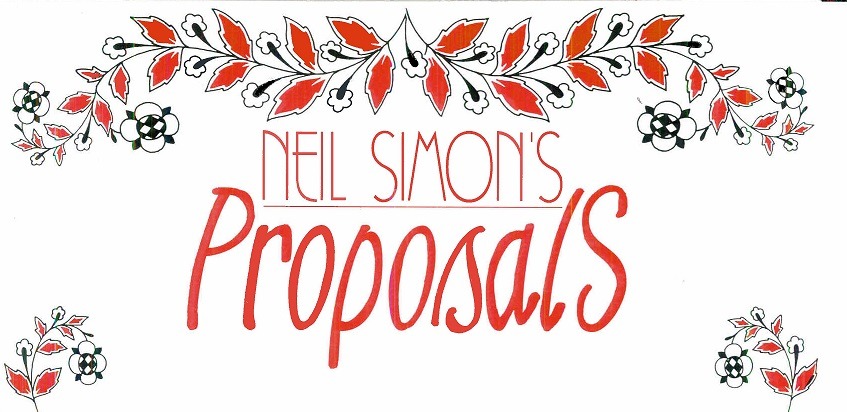 Neil Simon's Proposals
OPEN AUDITIONS! SUNDAY April 16, 2023 6:00 PM
& Monday April 17, 2023 6:30 PM
Performance dates June 9-18, 2023 Fridays and Saturdays at 7:30 PM
Sundays at 2:00 PM
The Broken Arrow Community Playhouse will be holding open auditions for Neil Simon's Proposals a romantic comedy-drama on April 16, 2023 at 6:00 PM and Monday the 17th, 2023 at 6:30 PM here at the playhouse 1800 S. Main St. Broken Arrow, OK 74012.
The Playhouse welcomes Director Kathryn Hartney! Kathryn is well known in the Tulsa area as both an actress and director. She has directed for American Theatre Company, World Stage Theatre Company, Theatre Pops, Heller Theatre, and Sapulpa Community Theatre. She most recently directed Enemy of the People in 2021 for American Theatre Company. For Proposals, Kathryn is looking to cast four women and five men of various ages. In the Character Descriptions below, the age ranges are a reference but she will not be judging the actors by their age. Audition will consist of cold readings from the script.
A nostalgic memory play, Proposals recalls one idyllic afternoon in the summer of 1953, the last time the Hines family gathers at its retreat in the Poconos. Guided by Clemma Diggins, the devoted housekeeper for Burt Hines and his daughter Josie, she is looking back on the events when nine people converged on this tranquil country home and not so tranquilly sorted out their tangled lives and loves.
More information for this production can be obtained by calling the BACP at 918-258-0077. The BACP is located in The Main Place at 1800 S. Main in downtown Broken Arrow. Neil Simon's Proposals is presented by special arrangement with Concord Theatricals on behalf of Samuel French, Inc.www.concordtheatricals.com. This production is made possible in part by grants from the Oklahoma Arts Council and the National Endowment for the Arts. The Broken Arrow Community Playhouse is a member of the Oklahoma Community Theatre Association and the American Association of Community Theatre.
CHARACTER DESCRIPTIONS
Clemma Diggins mid 40s African-American. She is the story's narrator, maid and caretaker of Hines family.
Burt Hines mid-50s, a heart attack survivor, a successful businessman, and a failed family man, his wife Annie has divorced him and remarried.
Josie Hines Burt and Annie's early 20s daughter; dumps her fiancé at the beginning of the play; worries she may be becoming her mother; her dad.
Ken Norman Mid-20s Harvard law student, Josie's recently dumped fiancé.
Ray Dolenz mid-20s, acting golf pro, an unpublished author, and Josie's former boyfriend.
Annie Robbins Late 40s, but still trim. Burt's former wife, now remarried.
Vinnie Bavasi Josie's young mob-connected friend and would-be suitor from Miami. He has a language all his own.
Sammii Early 20s, Ray's girlfriend, model-like beauty, not too bright.
Lewis Barnett early 50s African-American, Clemma's man who left seven years ago, and has returned intent on re-establishing the relationship; now blind in one eye, with one crippled hand.